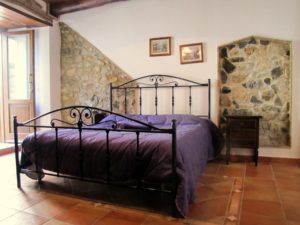 Casa delle Violette is located just off Corso Umberto, the main street of Badolato, offering a private location that is still within walking distance of all amenities.
This meticulously restored, self-catering property has two bedrooms with double beds (a single bed can be added), two full bathrooms (one with shower, other with tub), a full kitchen, a fully functioning fireplace, and a balcony with a view of the Ionian Sea and rolling hills of olive tree groves, nestled into which is the 17th-century Convento Santa Maria degli Angeli.
The house retains its original three-story structure, now linked together with a handmade wrought-iron staircase, with separate entrances on each floor.
2 bedrooms
2 bathrooms
full kitchen
fireplace
air conditioning / heating
balcony
Please check the Rentals page for information about pricing.